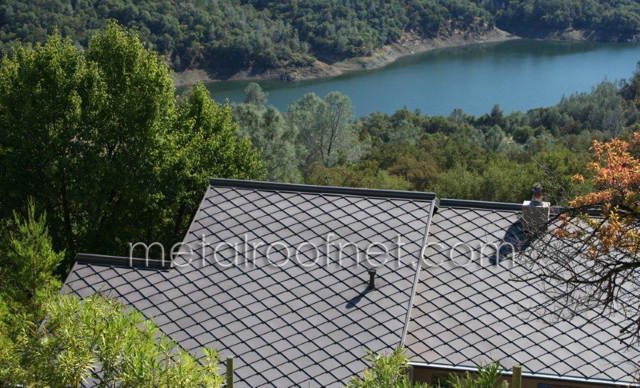 Metal Roof Network: Finished Steel Diamond Shingles
March 23, 2016 webadmin
I am excited to share a blog written by Metal Roof Network out of Reno, Nevada. They offer a unique diamond metal shingle made from CMG's steel or aluminum.  Make sure you check out their website for more great photos of this signature profile.
Project Spotlight: Finished Steel Diamond Shingles
Written by Jessica Timmons from Metal Roof Network
For this northern California project, our client needed a lightweight roofing material to replace their leaking concrete roof tiles that were proving downright impossible to repair.
After learning about the benefits of metal roofing, including the lack of maintenance issues and the incredible lifespan, they were sold. The next decision was finding a material and profile that would compliment their home's hillside view location and expansive remodel.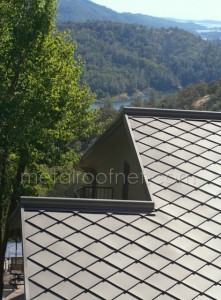 After some investigating, our clients chose one of our beautiful diamond roof shingle systems in a custom color from CMG. It would prove to be the crowning touch to the complete remodel of this beautiful home.
Diamond shingles have become one of the signature profiles at Metal Roof Network, and we're proud to offer this distinctive roofing option in a variety of impressive metals. When our customers aren't considering copper and zinc, they often look at one of our diamond shingle roof systems in a finished steel or aluminum. 
Both products are good choices. The advantages to these types of roofing materials are not only the smaller price tag, but the amazing variety of colors available.
Because of the quality of the finish on the final product is supremely important to its durability and lifespan, it's important not to use cut-rate finishes. The colored finish does two things:
It provides one of the second biggest architectural features (second only to both the profile and overall impact of the roof itself).
It's an important component in protecting the base metal from corrosion.
Because of these considerations, we only source the best finishes for our diamond roof products. CMG remains our preferred choice. Not only are their premium paint finishes an industry leader, they come back with a 35-year factory warranty.
When we select CMG for our diamonds, we know we're making them from the very best finished steel and aluminum, and our clients will get a product that is as durable as it is distinctive.